In Europa wird das Magazin "Vogue Knitting" aus rechtlichen Gründen unter dem Namen "Designer Knitting Magazine" verkauft - der Inhalt ist jedoch identisch, nur das Cover sieht anders aus.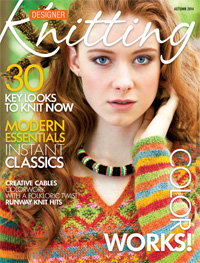 FEATURES
STUDENT LEADERS
San Francisco fashion students send their knitwear designs down high fashion runways, helping their careers take flight. By Kerry Wills
MEG SWANSEN: UPDATING A CLASSIC
The story behind the revised edition of Knitting Workshop.
DEBORAH NEWTON: BRAID PARADE
Newton's plaited-cable project lets her imagination (and fingers) run wild.
MODEL FARMING
Natalie Redding of Namaste Farms talks to Daryl Brower about sheep shearing, yarn making, social media, reality television and empowering women.
FASHION

COLOR REPORT
Our guide to the top ten yarn colors of the season.
COOL COMFORT
Dazzling cables put an interesting twist on a time honored technique.
EILEEN FISHER
The renowned designer is all about elegant simplicity
WARDROBE ESSENTIALS
Eight need-them-now knits for fall.
BLANKET STATEMENT
A sweater and shawl take inspiration from an American classic: the Hudson's Bay Co. point blanket.
FREE SPIRITS
Boho-chic tops and coats.
Language

English

Format

Magazine

Publisher

Vogue Knitting
Review product
No review available for this product.